Testimonials
I ordered Urad, Grasso and Aquila. I used the Aquila on my saddle and oil tanned chaps. I applied Urad to my saddle and Grasso to my chaps. The difference is amazing. So glad I found your products!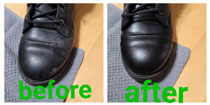 I picked up a jar at the Gun show here in Fayetteville, NC. It was tested on a pair of new boots that I wore that day and they were instantly easier to walk in. This stuff really does break in boots immediately. I also used it on another pair of boots that I have that had some scuff marks and they can barely be seen now. I then tried it on my husband's leather jacket that he's had for years and this stuff brought it back to life. This stuff is 100% worth every penny you spend.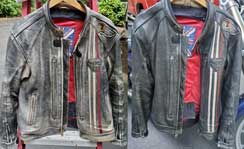 I wanted to pass along my gratitude and satisfaction with these products for a recent motorcycle jacket restoration and for your guidance to change the dye type from matte to normal. The outcome is nothing short of miraculous. I've attached photos of the before and after. I cleaned the whole jacket with the leather cleaner and let it dry first. I treated some areas with direct dye application (the removed patches glue, on the back, left no color behind). Then, I went over the whole jacket twice with the recommended combination of products and am going to waterproof it this evening.
Thank you again and you've gained a customer for life for any future leather restoration and cleaning needs.
I picked this product up in 2011 at the Laughlin River Run. Just finally ran out after 5 years. It works amazingly well in small quantities. So well I hunted it down online!
I recommend this to everybody!
URAD.COM NOTE:
Elizabeth purchased
Grasso
Elizabeth Ramirez
TX/ USA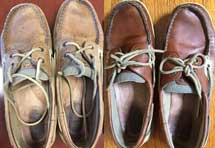 I wanted to show you my refurbished shoes. They look a lot better now. I'll take better care of shoes I purchase from now on since I have the products I purchased from you.
Thank you, Belinda
See BEFORE Picture here
See AFTER Picture here

URAD.COM NOTE: Belinda used Aquila, Grasso and URAD light brown
I purchased the Grasso to use on my driving harness but tried it out first on an older havana Stubben Dressage saddle to condition & protect it. This winter a pipe froze and burst in my tack room right above the saddle. It ran all night & there was ice on the stirrups and a 1 1/2" thick 14' wide ice flow across my driveway but the leather on the saddle was unscathed! What a fantastic product!
La gamme Urad fait des miracles chez moi tous les produits sont aussi efficaces les uns des autres. Ne pas oublier Grasso qui est excellent pour les bottes de travail. Tenderly est ma crème à main pour mes chaussures et mes bottes.
Félicitations d'avoir mis en marché ce type de produit.
I used the Grasso product for my baseball gloves. It works great and it is very easy to use. I think I conditioned my new glove 3 or 4 times this past summer and it is already soft and broken in like it is several years old. I also use it on my sons' gloves so I am happy with it being easy to apply...very little time. My father-in-law turned me on to your products. I also used your cordovan product for shoes and that is great also. Thanks again for your advise...
I had a very stiff custom made guitar strap and had tried other products to soften it up. Nothing worked until I used GRASSO on both sides of it. At first it did not change much but then I used a hair dryer and it accelerated the moisturizing process and my strap became soft and supple. It does not stain my clothes. Thanks!
J'utilise TENDERLY sur mes blousons en cuir vachette et agneau et le resultat est plus que parfait: le cuir est devient vraiment souple et tres doux au toucher. Entre autre, j'utilise aussi GRASSO pour mes chaussures de montagne, depuis quleques mois, et elles restent toujours dans l'etat où je les ai acheter. Deux produits que je conseille vivement à tous ceux qui hesitent encore. Un grand Bravo et Merci à URAD.
Merci pour Grasso! Ideal pour mes chaussures Red Wings! Vraiment efficace, meme apres usage à outrance des chaussures en montagne! Renouvele et ravive réellement le cuir!
Just bought some URAD at the Equine Expo in Massachusetts, cleaned my saddle and bridle and love it!!
I will be purchasing more and buying some Grasso to soften the leather occasionally. In reading the web site about Grasso, I am pleased to learn that it is safe to use on "brides". I am sure they will appreciate it...
We sell thousands of pairs of Department store returned shoes. Also, sporting goods, luggage and purses. Occasionally, they have a scuff or a mark. URAD products clean them up beautifully. I now have 3 kits of URAD with all the colors, Grasso and Aquila. One with my shipping manager to touch up, one with me if they just need a light touch, and one with my refinisher. Thanks, URAD!
Nous apprécions énormément les produits URAD. Chaussures Fillion Sports offre le servive d'entretien gratuit des chaussures achetées dans une de nos succursales et ce sont les produits URAD que nous employons pour conserver le bel état du cuir et satisfaire encore plus nos clients. D'ailleurs nous effectuons souvent des démonstrations sur de vieilles chaussures afin d'appuyer et garantir nos ventes de produits. Nous gardons toujours en inventaire plus d'une soixantaine de produits URAD incluant Tenderly et URAD Mât. Nous vous félicitons pour la qualité de vos produits et la rapidité de vos livraisons.
De la part de toute l'équipe, Merci pour votre bon travail!
After a free shine with URAD at the South Padre Island "Roar by the Shore" MC Rallyin October, I bought a jar, and proceeded to share it with seven of my riding companions. We knew we would be riding in heavy rain much of the 200 miles back up the Texas Coast, and three would be riding another 130+ in stormy weather.My BMW R1200 saddle also got a coat, as did ALL the leather and vinyl of a Honda GL 1500 Three Wheeler. Everyone arrived with dry feet, and my bike seats looked perfecct! In fact, everbody's boots looked perfect! All were impressed with the product, and decided to make a purchase. I've since redone my saddle and passenger seat, two pairs of my moto boots, my wife's boots, my neighbor's boots, my riding gloves, and I still have half of the seven oz. jar! This is real value. I recently went online to investigate this product at the source. I was impressed to find such an array of products for various materials and applications, as well as a Customer Support page that was so informative. The Sales Representative with whom I spoke at length about the various products was very knowledgeable, helpful, and has personally used most of the line himself, it would seem! I ended up ordering almost the entire product line, and now I'm prepared for the superior care of all my leather, and some of my fine wood as well, for a long time to come.
AQUILA? WOW! I'm hooked! I ordered it to use on my saddle, tried it on a older pair of deerskin boots. After several applications & a bit of rubbing, Aquila actually took old, dried paint off the boot! GRASSO? WOW too! I have used srtaight lanolin on leather before but it leaves it a little sticky, even after it dries. This Grasso is wonderful! I used the Grasso on a pair of elk hide boots that I had worn in the rain, they had been saturated! I thought my favorite boots were ready for the trash, then I tried the Grasso on them! They are soft & beautiful again with no sticky residue! It darkens the color a shade after it soaks in, which I liked so well that I used the Grasso on my new leather purse. Thank you for your outstanding products, which I will continue to use on all of my leather goods! Michele Fernandez M bar M Rancho Fiesta