Testimonials
I have been using Urad on my saddles and it makes them look new. LOVE this product ❤️
Buying boots for my Grandson at HorseTown, I saw URAD in dark brown. I figured if it saved a saddle or boots, it would save my leather couch. After 12 years of Grandkids, my huge sectional now looks brand new! Thanks, URAD! AMAZING PRODUCT!
I purchased the Grasso to use on my driving harness but tried it out first on an older havana Stubben Dressage saddle to condition & protect it. This winter a pipe froze and burst in my tack room right above the saddle. It ran all night & there was ice on the stirrups and a 1 1/2" thick 14' wide ice flow across my driveway but the leather on the saddle was unscathed! What a fantastic product!
I have used Urad for 20 years. I first bought it at the NILE Livestock Show in Billings Mt. It was called Leathermate at that time but manufactured by Urad. DO NOT BUY THE PRODUCT CALLED LEATHERMATE TODAY. It is not the same product as Urad. This is the best leather product on the market PERIOD! I have used it on Boots, Clothing, Saddles and tack. It cleans, restores, and protects better than anything and is so easy to apply Joe Biden could do it. Dont waste any more money on other leather conditioners. Urad is the ONLY product worth your money.
URAD made my saddles look new again. Love this product!
I purchased Urad at a Farm and ranch show last year and absolutely love it, there are about 8 pairs of boots in our house and it is used on every pair! Just this week My father in law passed away and we wanted his championship Roping saddle to put on his casket with flowers so we dug it out of the tack house and it was amazing how beautiful it looked once again. It made for a beautiful casket piece. I just ordered more and got some of the 50ml jars for gifts!! Thanks for making such a great product!!
A friend raved about your boot cleaner/polish and was kind enough to let me try it. My riding boots never looked so good and without having to apply a lot of elbow grease. I am looking forward to getting my own supply. Thank you
I have 3 pair of patent leather riding boots, and after URAD, VERNICE and AQUILA are the best products out there! They keep my boots looking like new day after day, and no, I don't work for Dynamique9. I'm just a very pleased customer spreading the word. Thanks again, West
I stumbled on your product by chance, and now I am addicted to URAD black and neutral! I wear my riding boots a lot, and now I waste no time at all keeping them beautifully polished. The neutral is used on my leather full seat riding breeches. Thank you for a great product! West
The Black works amazing on tall boots for the show ring! You can use my comment.... it is really a great product!
A fellow polo player from Europe introduced me to this product. It gives my boot a traditional high shine with minimal effort. My boots are well conditioned , softer and best of all gives me an outstanding finished and polished look. This is an amazing product that I would highly recommend. It even makes older shoes look like brand NEW!!!!!
I am using the product on a nubuck leather saddle (Torsion). It seems to do what it promises; it really does and continues to do a nice job. I pre-cleaned the saddle with a brush, sprayed on the Aquila, and rubbed it off with a soft cloth. It did look very nice. I did not want to goop up the Nubuck with oil and with the spray it does not take long to have a clean-looking saddle.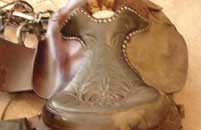 The first time I was introduced to URAD, I was stopped at the Ft.Worth Stock Show and a salesman applied it to my boots and it sure made a difference! I bought one jar and tried it at home on my leather furniture and it really brought back the color and softened the furniture! But what really made me appreciate the URAD product is when I brought out 2 saddles out of the barn that looked to not have hope; the saddles had heavy mold, dust discoloration and with just a swipe of conditioner it was a remarkable difference! I had taken before and after pictures and couldn't believe my eyes because of the difference the leather conditioner had done in such a brief time! Looks like the 2 old saddles will be around for a few more years to come now!

I had to work on an old, completely faded black saddle which once belonged to prince Alexis Romanov (rhe Russian royal family, deposed in 1917). After a single application of URAD neutral, the colour came back fully and the leather was completely revitalized!
We bought URAD after having our boots cleaned with it at the Tulsa State Fair 5 years ago. I have been a faithful repeat customer ever since! We use it for boots, shoes, purses, tack and out leather furniture! LOVE IT LOVE IT LOVE IT! It is the best product I have ever used, and I have used them all! THANKS! URAD!!
WOW..My husband and I first purchased this product at the rally in Conroe, TX . WOW..Our boots were both filthy from riding from Temple to Conroe and was a lil skeptical when the lady ask us to let her clean our boots . Decided it couldnt hurt anything , so up go the feet ..WOW ...I love this stuff ..We use it on everything leather . Im totally sold on this and spreading the word at the same time .. WOW ..WONDERFUL PRODUCT !!!!! Thanks .
Just bought some URAD at the Equine Expo in Massachusetts, cleaned my saddle and bridle and love it!!
I will be purchasing more and buying some Grasso to soften the leather occasionally. In reading the web site about Grasso, I am pleased to learn that it is safe to use on "brides". I am sure they will appreciate it...
My husband and I have tried other products similar to yours, but URAD products excels in quality and endurance every time.
My old dressage boots I boot 20 years ago I thought I was going to have to trash But, Then I tried URAD, and they look like new now ,now I'm hooked!!! Thanx Best wishes
Aquila is a fast and effective leather cleaner. I use URAD to polish and seal tack items after repair. Nice products!
Great on my horse harnesses and we all love URAD at the fire station for our boots. Urad is the best leather treatment ever. Thanks
AQUILA? WOW! I'm hooked! I ordered it to use on my saddle, tried it on a older pair of deerskin boots. After several applications & a bit of rubbing, Aquila actually took old, dried paint off the boot! GRASSO? WOW too! I have used srtaight lanolin on leather before but it leaves it a little sticky, even after it dries. This Grasso is wonderful! I used the Grasso on a pair of elk hide boots that I had worn in the rain, they had been saturated! I thought my favorite boots were ready for the trash, then I tried the Grasso on them! They are soft & beautiful again with no sticky residue! It darkens the color a shade after it soaks in, which I liked so well that I used the Grasso on my new leather purse. Thank you for your outstanding products, which I will continue to use on all of my leather goods! Michele Fernandez M bar M Rancho Fiesta
I purchased Urad with the intention to use it on my horse equipment because I was so impressed by the way it made my boots look. I didn't get a chance to because my husband was so surprised by how great it worked he used it on his motorcycle seat and bags, our dress shoes, his work boots, belts, and anything else that he could find that was made of leather. We are sold!!!
You may be interested to know that Urad is very much favoured by the side-saddle fraternity in Great Britain. Our saddles are, in the main, very old and as you can imagine it is very difficult to keep the leather supple and in good condition. I have restored 4 very sorry looking saddles to near show condition using Urad Shoe and Leather Cleaner. For regular maintenance it is so much easier and less messy than leather oil. Incidentally, my side-saddles date one from the 1890s, two from the 1920s and one was made in 1909!
Henriett Chew
United Kingdom
I bought the 7oz URAD cream from you at a horse show last year. Sure enough it seems to work perfectly on all types of leather. Frankly I don't understand how it seems to match all colors and hold up well on my boots. Anyway I need more...!
I bought a jar of Urad cream at the National Finals Rodeo after the gentalman used it on my boots. My husband refurbishes old saddles & ran off with the can as soon as we got home from Las Vegas. Those old, abused saddles come out so beautiful that even our saddlemaker friend was impressed! I've just reordered an extra jar for him & am trying the Aquila as my new saddle has a suede seat & fenders!
Michele Fernandez
CA - USA
I have never had a product clean my saddle like Aquila!! The silver laced rawhide trim is white again. They now look next to new. I wouldn't have bought a jar of URAD thinking it was way too expensive and wouldn't go far enough but it only takes a tiny bit and is well worth every penny. I have been telling all of my barrel racing friends.
Leather Mate by Urad is a product I simply will not ever be without. Last weekend we cleaned our saddles, bridles and riding boots with it. I used an old toothbrush in the cracks and crevices on the saddle. They looked so great on the horses. Amazing product! And it was so fast and easy. (Webmaster Note : Leather Mate is another "brand" name for URAD leather cream.)
I love your product!!! My saddles and other tack never looked better since the day they were new. I have gotten many of my riding friends to use your product too- They love it! My mom loves the product for her shoes and purses. I got fabulous results and knew I was doing something wonderful for my large tufted leather ottoman in the den and a leather covered dresser in the bedroom. These are two fine pieces of furniture and I trusted their care to your product without question.
We love URAD. We had a saddle that was 45 years old and looked like hell and within a half hour it looked almost new. My husband has been one of your best testamonial person, he tell everyone about his boots and how nice they shine. Thank you!
This product is truly amazing. I cant beleve it is not more well known. It can make an old saddle look brand new.
(Taken from Minot Daily News) Exerts of Interview:...In addition to the custom boots, Service Shoe Shop also does shoe shines and repairs, refinishing leather jackets, luggage... The shop even happended upon a unique leather care product to help protect that custom design. The revitalizing product is called URAD. I haven't seen a product like this in my 49 years in business, and I've shined a lot of shoes in those years. The product is good for reviving old leather and all colors. In addition to shoes and boots, URAD is used on saddles, sports equipment, car interiors, luggage, and unvarnished wood. URAD is an all nutural product made with carnauba tree wax. No buffing is required and it is water repellent. (to contact Larry, go to dealers listing and search for Retailers in Minot,ND,USA)
I use the neutral Urad on my show tack for an amasing shine, and frankly it is the best tack product I have ever used.
I bought this a while ago and just used it on all my horse leather. Both my bridle and saddle look new. I LOVE IT! You may absolutely use my statement. I took all my tack out to the barn and everyone marveled at it. Now they all want to try it. They couldn't believe how great it all looked. I promised them that when I got my new jar I would allow them to try a little but then they will just have to buy their own jar because I want it all for my selfish little self.

Products for the maintenance of leather saddles and tack
For more information, read: LEATHER SADDLES AND TACK MAINTENANCE TIPS

Acrylic dye for smooth leather.
» details

Gentle leather cleaner concentrated.
» details

Lanoline-base product to protect, waterproof and moisturize leather.
Will not stay greasy!
» details