NUBUCK leather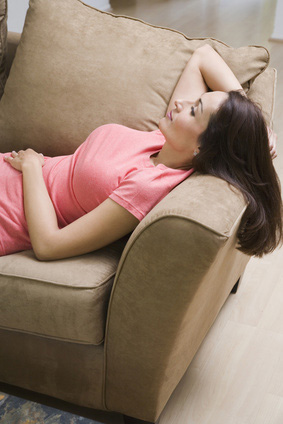 How to clean and care for Nubuck Leather furniture?
How to clean and condition Nubuck?
What is Nubuck?
Nubuck is simply sanded or buffed leather, giving it a velvet-like surface (see leather furniture article part 1). While visually it may be confused with Suede, which is produced from the lower part of the skin (splits), Nubuck comes from the top part (full grain), making it more robust and durable than suede. Its soft and velvet-like touch and its natural look, make it a popular choice for furnishing, clothing and for footwear.
However, these aspects can also be considered its Achilles heel since to obtain them, the leather receives no protective finishing coating. Thus, it is one of the most vulnerable leathers and should be a well thought-out choice.
Nubuck should be avoided if you have domestic animals who like to occupy the living room sofa, or if you have kids of very young age, or for leather furnishing in busy or public areas. But for living room furnishing, for clothing or even for shoes, its beauty and comfort can steal the show from even the finest leathers!
---
How to clean and condition Nubuck?
Nubuck will absorb dirt like a sponge so the first priority needs to be its protection.
• How to Protect Nubuck
As soon as possible after its purchase, Nubuck should be protected using SAHARA industrial quality waterproofing and stain-proofing spray. For optimum protection, use 2 to 3 thin coats, with 8 hours of dry time between each coat.
Notes:
If leather is not new, clean it and go over its entire surface with a Nubuck brush before applying Sahara (see How to Clean Nubuck below) .
Refresh treatment with 1 or 2 coats, once every other year or as needed.
Avoid breathing in the vapors of SAHARA spray. Wear a mask or scarf, apply it in a well-ventilated area and vacate the room for at least a few minutes after use.
• How to Clean Nubuck
Unless it is very dirty or stained, it is usually best not to soak Nubuck leather. Spray AQUILA in a fine mist over the Nubuck surface. AQUILA will « grab on to » the greasy dirt particles, will break them down and turn them to dust. Once dry, for nubuck leather furniture, gently go over the surface with a vacuum cleaner and a brush attachment to remove dust and dirt. For shoes, do the same or simply go over the shoes with a Nubuck brush. For heavily stained shoes, you may need to use a "Nubuck eraser."
• How to Restore Nubucks Nap
To keep its velvet-like nap, Nubuck must be cleaned and brushed regularly, otherwise, over time it will flatten down and become shiny, and turn into smooth leather. For Nubuck leather boots or shoes, it is even recommended they be brushed gently after each wear. For Nubuck leather furniture, special attention should be given to brushing the headrests, harm rests and seating areas.
• Nubuck Color Restoration
The above will go a long way to restore Nubuck—light stains, dulled down colors, etc., can vanish with only these. But you can take it one step further by using CAMOSCIO to restore, refresh and enhance Nubuck's colors and make them more vibrant.
---
Conclusion
It may not be the most forgiving, but with faultless regular and assiduous care, it provide rich, soothing and warm comfort, unparalleled by the best fabric imitations or even by other high-end leathers!