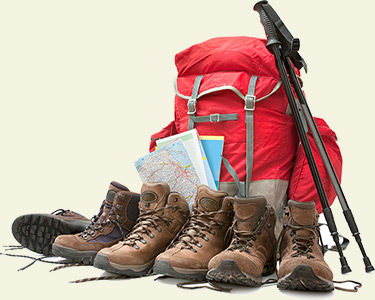 Oiled leatherHiking boots
OILED LEATHER
How to clean and condition
Introduction
With its natural and rugged look, oiled tanned leather is used to manufacture hiking and mountain boots, boat shoes and tack, furniture and even clothing items such as cowboy hats, chaps, etc.
The use of natural and/or synthetic oils during the tanning process gives it a high water resistance quality. Its color will vary depending of the raw hides, the oils used and, in some cases, of the dyes added to the oils. It is somewhat oily to the touch, without being greasy, not shiny but not completely mat either. It's usually thicker and heavier than other types of leather.
Oiled leather is long-lasting, offers undeniable value and return on investment and is easy to care for.


---
Oiled leather Maintenance tips
Cleaning
Cleaning can be done with a wet cloth but using AQUILA is better because not only will it prevent the side effects of chlorine and minerals contained in water, it dissolves dirt and dust which are naturally attracted and tend to stick to this type of leather. Cleaning should be done preferably after each use. Simply spray and wipe. It only takes a few seconds and it goes a long way in preserving your leather.
Moisturizing or Conditioning
Moisturizing oiled leather is best done with lanolin base products (often used in the tanning process itself). GRASSO is our product with the highest lanolin content. It deeply, easily and quickly soaks into the leather, moisturizing not only the surface but conditioning throughout the full thickness. GRASSO softens leather while restoring its color and its waterproofed qualities.
Before & After Oiled leather Hiking boots
Done with URAD and Grasso

Before & After Oiled leather Docker shoes
Done with URAD Light brown and GRASSO
The market place is full of Neat's-foot oil, beaver oil, seal oil, mink oil, etc. These oils do not easily soak into leather and people resort to doubtful methods like heating up the boots in the oven to get the oils in! Unless you manage to get these oils in, they will cloak up leather pores with grease buildups, all without actually moisturizing the leather! They just grease up the surface, attracting more and more dirt. These buildups can be seen as greasy black crust spots and they will prevent leather from breathing, eventually drying out and crack up leather.
Because GRASSO actually soaks in, you do not need to use it very often. Once every 2 to 4 weeks is fine for most situations. If the leather is more on the shiny side, you can condition them alternating between GRASSO and URAD (which contains carnauba wax as well as lanolin).
There is one caution note: If overused, the positive attributes of GRASSO can turn into problems. While GRASSO is the best to break in a new saddle or a new baseball glove, GRASSO is able to penetrate so deep into leather, and is so good at softening leather, that (only) if used every day, over many months, it may eventually leave leather so supple that it will be without hold or form.
---
CONCLUSION
Most leather will not forgive the slightest maintenance negligence while oiled leather will let you get away with minor omissions… It's one of the many reasons that make oiled leather an excellent choice for heavy-duty or extreme usage. Natural, relaxed and rugged looks, sturdy yet supple, water resistant yet requiring easy and only minimum maintenance, oiled tanned leather is extremely robust and long-lasting.
When properly cared for and maintained, even when used in the extreme situations they were made for, they will keep looking good for many years!