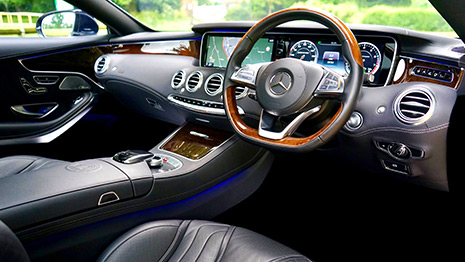 Cars and Airplanes Leather Seats
-How to clean and condition
A Complete guide
There is nothing like the touch and scent of fine leather!
High-quality leather seats offer comfort, style, and when cared for properly, unbelievable durability. Luckily, the leather used for car and airplane seats is usually manufactured and treated in such a way as to make them easy to clean and care for. Here, we'll fill you in on everything you need to know about how to take care of your leather car seats with regular cleaning and conditioning – two simple tasks if you do them right!


---
Car & Airplane seats maintenance instructions
How to clean leather car seats:
When it comes to cleaning your leather car seats, it's a simple process. You just need to follow a few steps to ensure a thorough cleaning: first, clean the seats regularly. Sounds simple enough? It is! Nevertheless, it is critical. Even more so for a light color leather where dirt and body grease can make their way through any protective layers and permanently stain or, for the armrests and headrests where most of the build-up will occur.
Clean leather, vinyl, and even material car seats and upholstery with AQUILA gentle leather cleaner every month or more often if needed. This will prevent greasy dirt build-up because, in time, these build-ups lessen the leather's breathability and dry up leather.
AQUILA is simple to use, clean your seats one panel at a time, so you can focus on each one and make sure all parts of your car interior are evenly cleaned.
Pay special attention to armrests and headrests, as this is where most of the build-up will occur.
Spray your all-purpose cleaner on the panel and then wipe it off. If you have dark-colored seats, you can spray the solution directly onto the material. If they are lighter-colored, it is best if you spray the solution on the cloth and then apply it to the leather.
Once you've wiped the cleaner off, then let it dry until you move on to the next step.
How to Protect and Condition car seats:
Once or twice a year, use URAD leather cream to condition, protect, and shine your leather seats. That's right, using this product, you take care of conditioning and protecting your leather seats, all while giving them a nice natural shine, all in a one-step application!
Airplane leather seats (Global 7000 cabin)

Red leather car seats and upholstery

Light colored leather car seats and upholstery
Car seat leather will fade and dry out over time because of exposure to the sun and even just because of normal wear. Even if you take great care of your car's interior, natural deterioration will always be a threat to its appearance. If you clean up every spill right away and always park in a garage, you still have to be well versed in how to protect your leather car seats from wear.
First, you should pick out the best leather conditioner for cars – one that will moisturize and protect your vehicle's interior. We recommend URAD Leather Cream – not only because it works a charm but because a little goes a long way. And to make its application smoother and easier and, to make your leather more soft and supple, we recommend you mix Urad Leather Cream half-and-half with TENDERLY Leather Softener.
Once you're ready to start conditioning, make sure you do a small patch test, in an inconspicuous spot, before you commit to the entire interior. This will also let you know how much product you need to use and if the ratio of Urad-Tenderly should be adjusted for the rest of the job See video of how to use Urad & Tenderly together.
The key is to use only VERY LITTLE! Don't try to cover up your leather, you only want to moisturize it! A good thumb rule: you should not see any of the cream left on your leather, you should only see a nice clean and shiny leather! Also, make sure not to fill stitches. Finally, don't apply the leather cream while in direct sunlight.
Using your test patch as a guide, go wild. Go over the rest of your car's leather interior with the same amount of product that will give your leather a nice shine and keep it protected from wear and tear.
Notes:
These tips also apply to vinyl seats, dashboard, and upholstery.
All three products presented in this article are nonflammable. (Airplane safety)
---
CONCLUSION
Prevention is key for the maintenance of car and airplane leather seats. The easy and quick regular cleaning step can save you many problems down the road.
Then, applying the above one step moisturizing protecting and softening treatment, in most case just once a year, despite the daily usage they may be exposed to, will go a long way to preserve your leather seats and upholstery value, and keep them feeling and looking as new for many years!


---

FREQUENTLY ASKED QUESTIONS
Important notice
All our products have been subjected to exhaustive testing. However, since every leather is unique, both in terms of the raw materials, products employed and tanning methods used in its preparation, we recommend that a test be made on a less visible part of the article prior to the application of any leather care product.


Cleaning
What is the best leather cleaner for cars?
The best product for cleaning leather car seats is the Aquila All Purpose Leather Cleaner. Due to its gentle formula, it can be used on all types of leather and it can be used regularly.
Since this particular leather cleaner can be used often, you'll prevent the build-up of grease and dirt on your car's interior. There is also no silicone or glycerin in Aquila's formula; since these ingredients can lead to more nasty build-up, it is best to avoid them. They can cause your seats to have a sticky residue that attracts dirt and grease.
What else do I need to clean leather car seats?
When you head out to the garage to clean your car's interior, you don't need to bring much with you. If you're using URAD's Aquila Leather Cleaner, all you need is your cleaner and a cloth.
A microfiber cloth is really the only accessory you'll need when cleaning your leather car seats. They are super soft, so they won't scratch or damage the material.
When it comes to deep cleaning, you may have to swap out your microfiber cloth for something a bit more heavy-duty – but, not too heavy. It's important that whatever you use doesn't damage your leather seats, so ensure that you're using a brush with soft bristles or a brush that has been specifically designed for use with the particular type of leather that your car seats are made out of.
How often should I clean my leather car seats?
It's best to clean your car seats every month. However, if you have a lighter color interior, you'll want to clean them more often; we recommend every two weeks.
This might sound like a lot of time to spend cleaning the interior of your car, but it does save you time in the long run. If you were to only clean your leather car seats once or twice a year, you would have to spend a lot more time on the process by having to carry out a deep clean.
Cleaning car seats by color
Whether you have black car seats or white car seats, the process for how to clean them is very similar. There are only a few things that you need to remember, depending on the color of your car seats:
| | | |
| --- | --- | --- |
|   | Frequency | Process |
| Dark Colors | Every month | Spray cleaner directly on leather |
| Light Colors | Every two weeks | Spray cleaner on a cloth then wipe down leather |
How to clean perforated leather car seats
Perforated car seats are a different beast when it comes to cleaning. It is not recommended to spray Aquila cleaner directly on the leather. Instead, just like you would with a light-colored leather interior, you should use very little Aquila leather cleaner, and, to prevent filling the holes with the cleaner, you should only clean perforated leather car seats by spraying the cleaner on a cloth, a brush or an applicator sponge, then gently work it to remove any visible dirt (a steamer can also be used, see Deep Cleaning below). This will prevent build-up within the holes that could lead to stains and could damage leather.
If the material is too wet, you should dry it right away with a hairdryer, a vacuum or leave the car doors open for the seats to air dry.
How to deep clean leather car seats
It's easy to let your car maintenance fall by the wayside, so there are times when you'll have to deep clean the leather interior of your vehicle. Fortunately, the process for how to clean dirty leather isn't much more intensive than regularly maintaining your seats.
All you really need to do when deep cleaning your leather car seats is to use a brush rather than a cloth. However, you shouldn't use just any old brush that you have lying around; make sure that you use one that is specially designed for deep cleaning leather.
There are plenty of options on the market, but a brush with horsehair bristles is your best bet. This type of brush is tough enough to get to deep-rooted stains while being gentle enough to not scratch your leather.
In some cases, a brush might not be enough and you might need a steamer to help get through crusted layers of dirt. To do this, spray Aquila on your brush, work some of it onto a leather's heavy dirt part, then, go over the spots, at about 2-inch distance, using the steamer. Make sure you don't burn the leather by overdoing it or by being too close. All you want to accomplish is to soften up the dirt build-ups and help Aquila cleaner make its way through it.
Conditioning and protecting
Future-Proofing: How to Protect Leather Car Seats
Leather car interiors can maintain their lush look for years and years, but only if you take care of them properly. You should take the necessary steps to protect your leather seats so that they can continue looking as new for as long as possible.
Why leather seats crack
The first step in knowing how to stop your car's leather seats from cracking and becoming damaged, is understanding how damage occurs. There are three main culprits:
Direct sunlight
Moisture loss
Prolonged staining
Since the causes of leather damage can be narrowed down so specifically, it's easy to know how to protect your leather car interior. You only need to remember to do a few simple things in order to keep your car's leather seats looking tip-top.
Steps to Take to Protect Your Car's Leather Interior
Some steps are easier than others, but you'll want to prevent all three of the above culprits in order to keep your leather car seats from cracking.
Since prolonged exposure to direct sunlight is a major cause of leather drying up and cracking, you'll want to keep your car out of direct sunlight as much as possible. Try to park it in the shade or in your garage, or invest in seat covers to protect them. But if prolonged direct sunlight exposure can't be avoided, moisturize and condition your car seats regularly, and without fail. The use of a mixture containing ½ Urad leather cream and ½ Tenderly should be used to replenish lost oils and to protect them. Urad leather cream contains carnauba wax, which offers very good UV protection for your leather car seats, and it also contains lanolin, which will serve to replenish natural oils. Tenderly leather softener is used to make the whole application easier and to help keep your leather soft and supple.
The last point, "Prolonged staining," might be the easiest to resolve. It is nevertheless extremely important to clean up any spills right away. Liquids can be especially damaging to leather interiors, so if someone spills a drink in your car, you should wipe it up right away. Don't wait awhile, as it will allow the liquid to penetrate the material, which can lead to cracks forming.
Finally, it's crucial that you condition your car seats regularly. You only need to do this once or twice a year, but it will help to prevent cracking and fading in order to keep your car looking as good as new.
Other questions
How to clean and condition Nubuck leather car seats?
Nubuck is a very different leather and it requires different care and separate instructions. For this reason, this article does not apply to Nubuck and in fact, we have devoted a full article on How to properly care for Nubuck leather.
You did not find the answer to your question...
Send us your question and we will do our best to provide you with some answers.