Categories:
All-In-One, Cleaner, Conditioner, Polish, Protector.
URAD
Cleans, moisturizes, protects and shines leather. Contains no silicone, alcohol or petroleum-based products.
Our Bestseller! (Available in 5 sizes - 9 colors)
Description
Total Leather Care: Cleans, moisturizes, protects and shines in 30 seconds without buffing! 100% natural and biodegradable.

The essential one-step product for complete leather care.

URAD NEUTRAL brings back and revives the original color. URAD is remarkable in restoring damaged or dried-up leathers to mint condition. Also an efficient protection against water, salt, calcium and mold problems.

Preferably use URAD NEUTRAL on furniture and saddles, and URAD COLOR on boots and shoes.
Details:
Test color resistance on a concealed part.
Instructions:
Apply a very small amount with the sponge provided. Gently rub it in and leave to dry for a few minutes.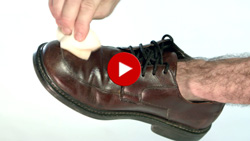 Play Urad's instruction video