Testimonials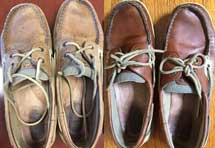 I wanted to show you my refurbished shoes. They look a lot better now. I'll take better care of shoes I purchase from now on since I have the products I purchased from you.
Thank you, Belinda
See BEFORE Picture here
See AFTER Picture here

URAD.COM NOTE: Belinda used Aquila, Grasso and URAD light brown
Just bought some URAD at the Equine Expo in Massachusetts, cleaned my saddle and bridle and love it!!
I will be purchasing more and buying some Grasso to soften the leather occasionally. In reading the web site about Grasso, I am pleased to learn that it is safe to use on "brides". I am sure they will appreciate it...
These are the leather care products most commonly used in cleaning and maintaining oiled leather. For more information, visit our support section article: OILED LEATHER

For Nubuck and mat leathers. Care and protection.
Available in various colors.
» details

Gentle leather cleaner concentrated.
» details

Lanoline-base product to protect, waterproof and moisturize leather.
Will not stay greasy!
» details