Testimonials
I ordered Urad, Grasso and Aquila. I used the Aquila on my saddle and oil tanned chaps. I applied Urad to my saddle and Grasso to my chaps. The difference is amazing. So glad I found your products!
Mr Jojo - I LOVE grasso, but Mr. Jojo is even better as far as water/salt permeability is concerned. I used it on my winter boots this last winter and the salt and slush didn't stick AT ALL! I've also used it on the leather soles of some moccasins. No matter how careful I am I still have small drops of water on my kitchen floor which were a problem for these soles... They would leave marks from the wet leather on my floor. However, when I coat them with Mr. Jojo this hardly ever happens and usually when it does I know they're ready for another coat... I bought the Mr. Jojo, because I knew jojoba oil has a component which is close to skin's sebum which protects skin and provides a moisture retentive layer... so I thought it might be REALLY good for boots etc. for the same reasons and it is!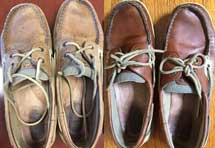 I wanted to show you my refurbished shoes. They look a lot better now. I'll take better care of shoes I purchase from now on since I have the products I purchased from you.
Thank you, Belinda
See BEFORE Picture here
See AFTER Picture here

URAD.COM NOTE: Belinda used Aquila, Grasso and URAD light brown
Just bought some URAD at the Equine Expo in Massachusetts, cleaned my saddle and bridle and love it!!
I will be purchasing more and buying some Grasso to soften the leather occasionally. In reading the web site about Grasso, I am pleased to learn that it is safe to use on "brides". I am sure they will appreciate it...
These are the leather care products most commonly used in cleaning and maintaining oiled leather. For more information, visit our support section article: OILED LEATHER

For Nubuck and mat leathers. Care and protection.
Available in various colors.
» details

Gentle leather cleaner concentrated.
» details