Testimonials
My leather sofa and love seat are 25 years old. They are seldom sat in but badly scratched from cats running across them. Since they are a vanilla color I didn't think that there was much hope for them. Since I've used Urad products on jackets and shoes I thought it was worth a try to save them. After I ordered everything suggested to dye and restore these sofas I went to work. The sofas turned out beautiful. They look new. I am so pleased with the results. Thank you Urad for offering such great products!

URAD.COM NOTE: customer got Costa-Brava Dye and the Color Restore kit
We wanted to update our 20+ year old leather couch/love seat - it was either replace or refurbish. Robby reached out to URAD, Leather care products (Canadian company based in Montreal) for information & advice. He spoke to Dominque who made suggestions on what to buy (& not buy), how to apply it, and requested us to call back if we had any further questions or ran into issues. The colour of dye that he sent on Robby's description - med brown… was perfect! The entire process - removing the cushions, cleaning, dyeing/conditioning/sealing, and putting everything back took 5 hours for both pieces. Although our set was not too bad, there were some spots that definitely needed refurbishing and the result is so much more than I expected! This is a perfect DIY project for anyone….I would say it was easy, but hubby did all the work (I was on consulting and admiration duty)! We would happily recommend this product to everyone! PS: we still have to replace the foam in the cushions - can't wait! (also not sure how to indicate 'before' & 'after'...)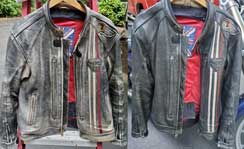 I wanted to pass along my gratitude and satisfaction with these products for a recent motorcycle jacket restoration and for your guidance to change the dye type from matte to normal. The outcome is nothing short of miraculous. I've attached photos of the before and after. I cleaned the whole jacket with the leather cleaner and let it dry first. I treated some areas with direct dye application (the removed patches glue, on the back, left no color behind). Then, I went over the whole jacket twice with the recommended combination of products and am going to waterproof it this evening.
Thank you again and you've gained a customer for life for any future leather restoration and cleaning needs.
Your restore kit did a fantastic job on a 1940 German leather trench-coat. It looks like new. Now I have a 1940's baseball mitt to restore...and more. Thanks
While I am a committed URAD exclusive user as well as a distributor, I just tried another different top-coat care product that was suggested to me. Since I believe the only way to learn and develop excellence in your trade is to stay open to new ideas and possibilities - I bought it. I just want to say for the record that I ALWAYS am amazed at how superior Urad is in every way! I will not be wasting my money on anything else again- nothing could be better than the Urad line of products! Dena Hamilton -owner- Leather Care Specialists & Great Leather
Although I don't usually fall for demos of products like this at trade shows, I was impressed and bought a small container of URAD about two years ago at a motorcycle show in Toronto. The small container has lasted well and I have had much use out of it, good value for money. I use it mostly on motorcycle leathers and boots, but also on leather upholstered furniture in our home. Results have always been great - couldn't ask for more! I have just ordered a new and larger supply of URAD as well as SAHARA which I will now try as well. Highly recommended!