Testimonials
My leather sofa and love seat are 25 years old. They are seldom sat in but badly scratched from cats running across them. Since they are a vanilla color I didn't think that there was much hope for them. Since I've used Urad products on jackets and shoes I thought it was worth a try to save them. After I ordered everything suggested to dye and restore these sofas I went to work. The sofas turned out beautiful. They look new. I am so pleased with the results. Thank you Urad for offering such great products!

URAD.COM NOTE: customer got Costa-Brava Dye and the Color Restore kit
Bought this from our local shoe repair shop. We used it on a badly faded Grey leather jacket and the results were unbelievable. It looks brand new and is now the go to jacket.
Mary Anne and Bev were very helpful and kind and went out of their way to help me with my leather situation to the best of their ability. Also a shout out to Dominique for his help as well. Great people!
The Urad products are easy to use and clean up well.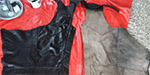 Je suis tellement heureuse de la restauration des "chaps de moto" de mon mari.
Elles sont comme neuve. J'ai même redonné la couleur à mon pouf de salon.
Résultats 5/5 +

We wanted to update our 20+ year old leather couch/love seat - it was either replace or refurbish. Robby reached out to URAD, Leather care products (Canadian company based in Montreal) for information & advice. He spoke to Dominque who made suggestions on what to buy (& not buy), how to apply it, and requested us to call back if we had any further questions or ran into issues. The colour of dye that he sent on Robby's description - med brown… was perfect! The entire process - removing the cushions, cleaning, dyeing/conditioning/sealing, and putting everything back took 5 hours for both pieces. Although our set was not too bad, there were some spots that definitely needed refurbishing and the result is so much more than I expected! This is a perfect DIY project for anyone….I would say it was easy, but hubby did all the work (I was on consulting and admiration duty)! We would happily recommend this product to everyone! PS: we still have to replace the foam in the cushions - can't wait! (also not sure how to indicate 'before' & 'after'...)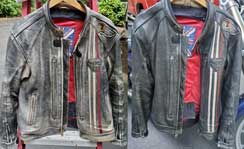 I wanted to pass along my gratitude and satisfaction with these products for a recent motorcycle jacket restoration and for your guidance to change the dye type from matte to normal. The outcome is nothing short of miraculous. I've attached photos of the before and after. I cleaned the whole jacket with the leather cleaner and let it dry first. I treated some areas with direct dye application (the removed patches glue, on the back, left no color behind). Then, I went over the whole jacket twice with the recommended combination of products and am going to waterproof it this evening.
Thank you again and you've gained a customer for life for any future leather restoration and cleaning needs.
Your restore kit did a fantastic job on a 1940 German leather trench-coat. It looks like new. Now I have a 1940's baseball mitt to restore...and more. Thanks
I wanted to thank you for your help in selecting the Urad products last week. I purchased them to help revive my old but still in good shape black leather jacket. On the weekend I followed the process and my jacket looks fantastic (better than I actually expected). Thanks again!
URAD.COM NOTE:
Lisa used Aquila, URAD Neutral, Tenderly and Costa-Brava as
described here
No question, just compliments. I rehabbed a very old black sheepskin B-3 bomber that I bought on ebay. The jacket was so old and beat up it had no finish at all and the sheepskin was completely sueded. One arm was slightly discolored and looked like it was more of a chocolate brown than black but the jacket fits well and is really warm. I used a whole bottle of black dye mixed with 5 oz. of Tenderly and about 1.5 oz of Urad. Now the color is much more even and black and the sheepskin has almost a nappa finish on it from the little bit of Urad I used. Not shiny but it feels like finished leather, not suede. Its a huge improvement and I'm really glad I tried your products. Also, I only used about 1/3 of the mixture so I'll have enough to refinish the jacket a couple of times if I need to. Maybe I'll try a bit on some black shoes I have. Thanks!
While I am a committed URAD exclusive user as well as a distributor, I just tried another different top-coat care product that was suggested to me. Since I believe the only way to learn and develop excellence in your trade is to stay open to new ideas and possibilities - I bought it. I just want to say for the record that I ALWAYS am amazed at how superior Urad is in every way! I will not be wasting my money on anything else again- nothing could be better than the Urad line of products! Dena Hamilton -owner- Leather Care Specialists & Great Leather
I found up a very old motorcycle jacket in a yard sale. It was funky and the finish was terribly worn but no tears. I was reluctant to try it on for fit because it had been wet and laying around. It hung on a hanger in my shop for 18 months until I finally decided to toss it or fix it. I went to the shoe shop and the owner shook his head and said there was nothing he could do. I went on line and found Dynamique 9 Inc. I was still apprehensive even after talking to them, but decided what did I have to loose. I read the instructions over a few times and got started. I mixed the parts together as told. Right away I found the color and finish come back. I ended up using the whole 100ml of dye. This product was fool proof. I should have taken a before and after picture. I was knocked out. The color and finish are like new. Thanks for your patience and help.
Exactly what we were looking for--my wife's favorite shoes look brand new again!
Great product. It covered some light scratches on my BMW seats. Highly recommended
Costa Brava (white) fixed my purse blemish after shoe repair shop said it couldn't be fixed!
Suivez vraiment les instructions! Faites les mélanges tels que suggérés... n'utilisez pas d'autres produits que ceux vendus par URAD....pour reteindre un fauteuil en cuir décoloré, terne, etc. J'ai bien commencé.... mais il me manquait un peu de teinture (Costa Brava) pour obtenir la couleur plus foncée que je voulais obtenir. Alors, je suis allée chez mon cordonnier et j'ai acheté de la teinture en aérosol. MALHEUR!!! Le mélange des deux... a fait que tout a commencé à peler!!! Il a fallu que je gratte tout, à la main, délicatement... (bien utiles les ongles!). Dominique, chez URAD, à Montréal a pris le temps de me téléphoner pour bien m'expliquer ce qui s'est passé... notamment que la teinture du cordonnier, c'était un peu comme une couche de peinture que je venais de mettre sur mon fauteuil. J'ai donc tout recommencé (et tout acheté à nouveau). Mon fauteuil; mes deux fauteuils sont maintenant MAGNIFIQUES... malgré leur 18 ans! Comme neufs, mais avec une patine qui leur donne une allure de «fauteuils de riches»!!! Du rose infâme qu'ils étaient devenus par la décoloration, ils sont d'un beau brun riche, brillant... Je suis vraiment fière du produit fini. Et si j'avais bien suivi les instructions, cela se serait fait très rapidement, sans fatigue inutile. Merci, donc URAD.... Dommage que je ne puisse vous montrer les photos avant-après», surtout celles en cours de travail où l'on voit l'horreur... des deux couleurs et du «peeling». Je peux vous les envoyer par courriel si vous le désirez. Marie-Paule Dessaint www.marie-paule-dessaint.com
Marie-Paule Dessaint
Québec