Testimonials
I was attending the Calgary Home Show and there was a Urad booth doing demonstrations and selling the product. They quickly applied Urad to my tired and scuffed Blundstones which unbelievably made them look new again, and so quick and easy. I now use it on everything leather that I own, footwear, leather furniture and motorcycle jackets keeping them looking great,feeling smooth and supple and water resistant. Can't live without the stuff.
Willard Ripley
British Columbia
EXCEPTION PRODUCT, I use it on my leather jacket as well as my shoes, boots, belts, & holsters!
JOE MARIE MONTOYA
New Mexico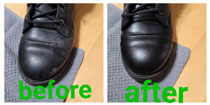 I picked up a jar at the Gun show here in Fayetteville, NC. It was tested on a pair of new boots that I wore that day and they were instantly easier to walk in. This stuff really does break in boots immediately. I also used it on another pair of boots that I have that had some scuff marks and they can barely be seen now. I then tried it on my husband's leather jacket that he's had for years and this stuff brought it back to life. This stuff is 100% worth every penny you spend.
Mr Jojo - I LOVE grasso, but Mr. Jojo is even better as far as water/salt permeability is concerned. I used it on my winter boots this last winter and the salt and slush didn't stick AT ALL! I've also used it on the leather soles of some moccasins. No matter how careful I am I still have small drops of water on my kitchen floor which were a problem for these soles... They would leave marks from the wet leather on my floor. However, when I coat them with Mr. Jojo this hardly ever happens and usually when it does I know they're ready for another coat... I bought the Mr. Jojo, because I knew jojoba oil has a component which is close to skin's sebum which protects skin and provides a moisture retentive layer... so I thought it might be REALLY good for boots etc. for the same reasons and it is!
I first found out about Urad almost a year ago from a guy at a gun show in San Diego. I was wearing my pair of cowboy boots and he offered to clean them for me using Urad. I hesitated slightly about letting him do so, but later I realized that Urad was not some knock-off or a cheap leather cleaner made in some guy's garage. Urad is legit. After he cleaned and polished by boots with it, I immediately paid for one 7oz container from him. I have not once regretted it. With a single dip of a sponge, you can quickly and effectively clean, polish, and protect your leather western boots. It works amazing for me and I would recommend it to anybody else who wears western boots. I just bought another container yesterday because I am planning on trying Urad out with some other leather items.
Enoch Profancik
California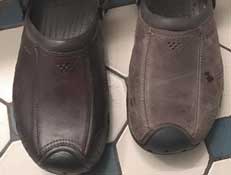 It's NOT just for leather boots!!
Hubs has diabetic neuropathy...
If you can't look good in a pair of Crocks..life REALLY sucks!!
Debbie Christensen Cox
TX
Truly a fantastic product. Shoes look like a million bucks even after being exposed to snow and salt. Bought it at a market last summer. Been ecstatic with the results. ordering more.
We have used urad for over 35 years having first tried it at a kiosk at the Bay in Wpg. MB. It has extended the life of all of the shoes it was used on. Almost worth it's weight in gold. Highly recommended. Kathy
Lol...in addition to the couch, those expensive boots look like new even after this rainy, muddy deer season! URAD is amazing. Best leather product I have ever used.
Buying boots for my Grandson at HorseTown, I saw URAD in dark brown. I figured if it saved a saddle or boots, it would save my leather couch. After 12 years of Grandkids, my huge sectional now looks brand new! Thanks, URAD! AMAZING PRODUCT!
I am a professional Santa Claus and have been using the URAD product for the last 7 years.
I will say it's a great product to instantly put a reasonable shine on my leather boots and the neutral URAD helps keep my 4" leather belt looking good too. I like that if I am on site and in a hurry, I can just dab any scuff marks, you know the kind from kiddies getting off your knee and landing on your boots, with even a bit of damp cloth and look well enough to carry on.
I like that the shine lasts for a long time and is very easy to apply. I keep a small jar in my kit bag all the time. Yes a little goes a long way, even on Santa boots!
Santa Edson
Alberta, Canada
I went to the Ottawa Bike show yesterday and had my boots done by a salesmodel. Bought a jar and just now finished refreshing three of my motorcycle jackets. FANTASTIC results. Just last week, I had been given an estimate by a dry cleaner to do them for $53 each. Over $150! To do the three jackets I used just a smidgen from my 200 gm jar. You can bet I will be ordering more as I have a bunch of boots, vests, chaps gloves, bike seat and bib to do. I wish I had known about this product long ago. THANKS! Happy Biker.
Len Westerberg
Ontario, Canada
I have been very particular about keeping my shoes, boots and other leather articles looking their best since I was twelve years old. I have purchased dozens of different polishes and creams over the years. Many did a good job but were quite time consuming and messy to use. Now that I've discovered Urad, I can have all of my leather looking great in a fraction of the time without the mess. I also find that the finish lasts longer than the conventional waxes and polishes and seems to keep the leather softer and more supple. Now, to get rid of the box of cans and bottles that are no longer needed... I've been converted. DS
I have used Urad for 20 years. I first bought it at the NILE Livestock Show in Billings Mt. It was called Leathermate at that time but manufactured by Urad. DO NOT BUY THE PRODUCT CALLED LEATHERMATE TODAY. It is not the same product as Urad. This is the best leather product on the market PERIOD! I have used it on Boots, Clothing, Saddles and tack. It cleans, restores, and protects better than anything and is so easy to apply Joe Biden could do it. Dont waste any more money on other leather conditioners. Urad is the ONLY product worth your money.
I first tried Urad for leather over 13 years ago when my father purchased it at a trade show & shined my cowboy boots for me. Since then, when ever I saw the product at a tradeshow I would by some for myself & for him. So glad to have found this website so that I can order it when I need it. Works fantastic on boots, shoes, purses.... My favourite black leather back pak purse was looking tired & worn, purchased some black urad & applied it, looks brand new. Love it!
BEST PRODUCT EVER! WORK BOOTS TO DRESS SHOES
URAD is by far the best leather care product I have ever found. Quick and easy to use. Does not build up residue on surface of leather like other instant polishes. Great for maintaining law enforcement duty leather gear as well as civilian leather, especially western boots. I have been using URAD since the early 1990s and just placed another order. The five can special is a great deal, and the company will substitue colors on some of the order if requested. I strongly recommend the product and am a long time repeat customer.
Your product came with my custom crocodile motorcycle seat. Alligator Bob in Lake Vila, IL made the seat and thought enough of your creme to send it along with the expensive seat. I live in Florida and the seat is subjected to all types of extreme weather conditions. It is now 4 years old and looks just like it did when it was made after using the product. I think it saved me a bunch of money. I also use this on my exotic hide cowboy boots. Works great as advertised. Thank you.
I purchased Urad at a Farm and ranch show last year and absolutely love it, there are about 8 pairs of boots in our house and it is used on every pair! Just this week My father in law passed away and we wanted his championship Roping saddle to put on his casket with flowers so we dug it out of the tack house and it was amazing how beautiful it looked once again. It made for a beautiful casket piece. I just ordered more and got some of the 50ml jars for gifts!! Thanks for making such a great product!!
A friend raved about your boot cleaner/polish and was kind enough to let me try it. My riding boots never looked so good and without having to apply a lot of elbow grease. I am looking forward to getting my own supply. Thank you
I discovered URAD at a show in Canada and purchased the product. Every year thereafter, for about 8 years when I visited Canada, I would make sure to purchase some before returning to Maine. At that time, URAD was not known to me or any of my friends. Now that it can be purchased on line, I don't have to wait for my visits to Canada! I have been a Police Officer for 34 years and cannot believe the shine and durability that URAD provides, but most of all it is the ease of applying that is the best feature for me. I wish I had discovered it years ago. My professional life would have been much easier! Thank you for such a wonderful product.
WE FOUND IT AT THE RODEO ONE TIME AND WE CAN NOT BELIEVE HOW GOOD IT WORK....EVEN IN MY HUSBAND ARMY BOOTS....THANKS
URAD makes the most outstanding products I have ever used. It gets the job done quick and easy, and the shine outlast any other conditioner or polish I have ever used. Everybody who ask me what I shine my duty gear with and after I show them the URAD product, the next thing that is asked..."Can you order some for me?" Great product!
These are the leather care products most commonly used in caring or restoring various kind of leather boots. For more information, visit our support section article: WINTER BOOTS

Do-It-yourself color restoration kit for Leather sofa and leather jackets.
Professional results, yet easy and quick to use!
» details

Acrylic dye for smooth leather.
» details

Gentle leather cleaner concentrated.
» details

Professional waterproof and anti-stain.
Super powerful! Great on leather, Nubuck, suede and fabrics.
» details

Manufacturing and leather crafting finishing product for shiny leather, requires NO BUFFING.
» details

Dye or ink for leather heels and soles.
» details