Testimonials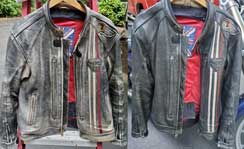 I wanted to pass along my gratitude and satisfaction with these products for a recent motorcycle jacket restoration and for your guidance to change the dye type from matte to normal. The outcome is nothing short of miraculous. I've attached photos of the before and after. I cleaned the whole jacket with the leather cleaner and let it dry first. I treated some areas with direct dye application (the removed patches glue, on the back, left no color behind). Then, I went over the whole jacket twice with the recommended combination of products and am going to waterproof it this evening.
Thank you again and you've gained a customer for life for any future leather restoration and cleaning needs.
I went to the Ottawa Bike show yesterday and had my boots done by a salesmodel. Bought a jar and just now finished refreshing three of my motorcycle jackets. FANTASTIC results. Just last week, I had been given an estimate by a dry cleaner to do them for $53 each. Over $150! To do the three jackets I used just a smidgen from my 200 gm jar. You can bet I will be ordering more as I have a bunch of boots, vests, chaps gloves, bike seat and bib to do. I wish I had known about this product long ago. THANKS! Happy Biker.
Len Westerberg
Ontario, Canada
I found up a very old motorcycle jacket in a yard sale. It was funky and the finish was terribly worn but no tears. I was reluctant to try it on for fit because it had been wet and laying around. It hung on a hanger in my shop for 18 months until I finally decided to toss it or fix it. I went to the shoe shop and the owner shook his head and said there was nothing he could do. I went on line and found Dynamique 9 Inc. I was still apprehensive even after talking to them, but decided what did I have to loose. I read the instructions over a few times and got started. I mixed the parts together as told. Right away I found the color and finish come back. I ended up using the whole 100ml of dye. This product was fool proof. I should have taken a before and after picture. I was knocked out. The color and finish are like new. Thanks for your patience and help.
Your product came with my custom crocodile motorcycle seat. Alligator Bob in Lake Vila, IL made the seat and thought enough of your creme to send it along with the expensive seat. I live in Florida and the seat is subjected to all types of extreme weather conditions. It is now 4 years old and looks just like it did when it was made after using the product. I think it saved me a bunch of money. I also use this on my exotic hide cowboy boots. Works great as advertised. Thank you.
A friend of mine recommended that I try Urad on my motorcycle leathers. After applying just a small amount to my jacket and chaps I still cant believe what a difference it made. I dont think they looked this good new as they do after applying Urad! You have a customer for life!
WOW..My husband and I first purchased this product at the rally in Conroe, TX . WOW..Our boots were both filthy from riding from Temple to Conroe and was a lil skeptical when the lady ask us to let her clean our boots . Decided it couldnt hurt anything , so up go the feet ..WOW ...I love this stuff ..We use it on everything leather . Im totally sold on this and spreading the word at the same time .. WOW ..WONDERFUL PRODUCT !!!!! Thanks .
I got black Urad creme in the 3.5 oz tub from my friendly neighborhood shoe repairman, with his reassurance that it doesn't rub or flake off, or come off with water. I've used it now to restore a number of vintage Coach purses gleaned from thrift stores and yard sales, and they look nearly as good as new. Beautiful! I recommend this stuff to anybody interested in restoring scuffed, finished leather goods, from purses to jackets.
Although I don't usually fall for demos of products like this at trade shows, I was impressed and bought a small container of URAD about two years ago at a motorcycle show in Toronto. The small container has lasted well and I have had much use out of it, good value for money. I use it mostly on motorcycle leathers and boots, but also on leather upholstered furniture in our home. Results have always been great - couldn't ask for more! I have just ordered a new and larger supply of URAD as well as SAHARA which I will now try as well. Highly recommended!
I found URAD about 5 years ago at a bike rally, and I have not found any other product that comes even close. It spoke for itself. I am so thankful that it's still available to purchase. I wouldn't use anything else. It's worth it's weight in gold.
I first picked up Urad at a motorcycle show in my area. I was wowed when I used it on a black leather sheepskin jacket that had turned grey with wear. It was amazing to see it turn black again. I then discovered that it was great for repairing the warn edges on a ladies' dress coat and on another men's jacket. Since then, I look for and pick up Urad at every motorcycle show I attend. It not only revives the leather, but makes it less prone to scuffing. Great product!
I use URAD on my motorcycle seat and saddle bags, as well as my LA-Z-BOY chair. I live in Denver where the sun is always shining and the air is very dry, but URAD keeps my leather soft, supple, and in great condition. I highly recommend URAD!
After a free shine with URAD at the South Padre Island "Roar by the Shore" MC Rallyin October, I bought a jar, and proceeded to share it with seven of my riding companions. We knew we would be riding in heavy rain much of the 200 miles back up the Texas Coast, and three would be riding another 130+ in stormy weather.My BMW R1200 saddle also got a coat, as did ALL the leather and vinyl of a Honda GL 1500 Three Wheeler. Everyone arrived with dry feet, and my bike seats looked perfecct! In fact, everbody's boots looked perfect! All were impressed with the product, and decided to make a purchase. I've since redone my saddle and passenger seat, two pairs of my moto boots, my wife's boots, my neighbor's boots, my riding gloves, and I still have half of the seven oz. jar! This is real value. I recently went online to investigate this product at the source. I was impressed to find such an array of products for various materials and applications, as well as a Customer Support page that was so informative. The Sales Representative with whom I spoke at length about the various products was very knowledgeable, helpful, and has personally used most of the line himself, it would seem! I ended up ordering almost the entire product line, and now I'm prepared for the superior care of all my leather, and some of my fine wood as well, for a long time to come.
My husband and I have tried other products similar to yours, but URAD products excels in quality and endurance every time.
I purchased Urad with the intention to use it on my horse equipment because I was so impressed by the way it made my boots look. I didn't get a chance to because my husband was so surprised by how great it worked he used it on his motorcycle seat and bags, our dress shoes, his work boots, belts, and anything else that he could find that was made of leather. We are sold!!!
I found out about this product throught the chromeheads web site.It was the discovery of the year.I placed my order and received a phone call from the owner (Dominique)He advised me on a different product that would be more suited to my needs.I wanted to try the product so I accepted his recomendation. I own a 1998 R1200 C Ivory with blue trim(leather)seat and hard bags(BMW stox)the seat was so bad,the only options was replace or re-upholster.So far I've use the Aquila cleaner/shampoo once along with a thine coat of URAD cream polish and "voila"its almost like new.The same proceedure was used on the bags and the same results appeared.Thanks Dominique for your help and suggestion it realy worked.I recomend this product to anyone who is concidering replacing or reupholstering ,Try it you'll like it Thanks ROLAND
Roland Duval
quebec/canada
I think I've found the best: URAD. I have used Lexol for years. For the first year I also used lexol on my Cruiser's leather. However, now I use URAD. I'm even using URAD on my riding boots and BMW Cruiser leather jacket and pants. The stuff is awesome. Applied as directed it cleans, moisturizes, and imparts a shine that is better than new. It has even restored the areas of the seat that were starting to look worn. I'd put my seat and saddle bags, with 18,000 miles of wear, up against any new seat and bags on a showroom floor.
Yep, I'm sold! URAD is not cheap, but I believe it is the best stuff out there. Posted on BMW R1200 family of motorcycles product review forum at: http://www.chromeheads.org/discus/messages/9/948.html?1018928257
I was in Montreal Canada last winter and had been walking the shopping district of St-Catherine St. This was after a large snow storm. There at the Bay Shopping store was a "Urad" sales rep using the Urad leather protector to remove salt stains and waterproofing shoppers boots and shoes. I allowed this sales rep to do my boots and I was amazed at the look of the boots afterwards. They seemed new again and after walking in the slush and saltagain, they stayed good looking and dry. I bought a jar and know use it on my motorcycle boots. Anytime I get caught in the rain my boots never leek. Even after being out in a heavy rain storm for eight hours, the boots stayed dry during the motorcycle tour. I think this is a great product and would recommend it to any persons that spend many hours outside in the elements with rain and snow. Thanks Urad TerryM
Terrance Murphy
Nova Scotia Canada
These are the leather care products most commonly used for the care, maintenance motorcycle leather seats and clothing. For more information, visit our support section article: Motorcycle seats and Apparels

URAD & TENDERLY 2 jars bundle
URAD All-In-One leather cream and TENDERLY softener.
Two Bestsellers at the best price!
2 jars bundle at 5% reduction
» details

Acrylic dye for smooth leather.
» details

Gentle leather cleaner concentrated.
» details