Testimonials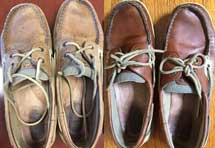 I wanted to show you my refurbished shoes. They look a lot better now. I'll take better care of shoes I purchase from now on since I have the products I purchased from you.
Thank you, Belinda
See BEFORE Picture here
See AFTER Picture here

URAD.COM NOTE: Belinda used Aquila, Grasso and URAD light brown
I'm so happy and utterly impressed....I only Wish I could show you right now!!!
I have, for years, been trying to find a safe effective cleaner for my cream leather couches. Nothing has worked. Yesturday, I attended a show where your vendor was selling this product....not only did we get our shoes shined...(Thank You!), but I finally found a cleaner that works!! I used it in my leather couches today...I'm seriously amazed and really so happy, I had to write this review.

Great great product...great price point...I highly recommend it! I can't believe how it took the discolouration out of the sofas. It dried within minutes. No more dark Jean stains!!! I should have bought more! Thank you...scincerely thank you!
We have used urad for over 35 years having first tried it at a kiosk at the Bay in Wpg. MB. It has extended the life of all of the shoes it was used on. Almost worth it's weight in gold. Highly recommended. Kathy
Lol...in addition to the couch, those expensive boots look like new even after this rainy, muddy deer season! URAD is amazing. Best leather product I have ever used.
Buying boots for my Grandson at HorseTown, I saw URAD in dark brown. I figured if it saved a saddle or boots, it would save my leather couch. After 12 years of Grandkids, my huge sectional now looks brand new! Thanks, URAD! AMAZING PRODUCT!
I purchased the Grasso to use on my driving harness but tried it out first on an older havana Stubben Dressage saddle to condition & protect it. This winter a pipe froze and burst in my tack room right above the saddle. It ran all night & there was ice on the stirrups and a 1 1/2" thick 14' wide ice flow across my driveway but the leather on the saddle was unscathed! What a fantastic product!
No question, just compliments. I rehabbed a very old black sheepskin B-3 bomber that I bought on ebay. The jacket was so old and beat up it had no finish at all and the sheepskin was completely sueded. One arm was slightly discolored and looked like it was more of a chocolate brown than black but the jacket fits well and is really warm. I used a whole bottle of black dye mixed with 5 oz. of Tenderly and about 1.5 oz of Urad. Now the color is much more even and black and the sheepskin has almost a nappa finish on it from the little bit of Urad I used. Not shiny but it feels like finished leather, not suede. Its a huge improvement and I'm really glad I tried your products. Also, I only used about 1/3 of the mixture so I'll have enough to refinish the jacket a couple of times if I need to. Maybe I'll try a bit on some black shoes I have. Thanks!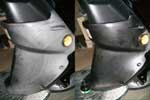 Urad never cease to amaze me! I did the old faded vinyl front panel of my scooter and it looks new again!
SEE Dominique's Before-After Picture here
Thanks so much for the article.Much thanks again. Great.
I am a professional Santa Claus and have been using the URAD product for the last 7 years.
I will say it's a great product to instantly put a reasonable shine on my leather boots and the neutral URAD helps keep my 4" leather belt looking good too. I like that if I am on site and in a hurry, I can just dab any scuff marks, you know the kind from kiddies getting off your knee and landing on your boots, with even a bit of damp cloth and look well enough to carry on.
I like that the shine lasts for a long time and is very easy to apply. I keep a small jar in my kit bag all the time. Yes a little goes a long way, even on Santa boots!
Santa Edson
Alberta, Canada
While I am a committed URAD exclusive user as well as a distributor, I just tried another different top-coat care product that was suggested to me. Since I believe the only way to learn and develop excellence in your trade is to stay open to new ideas and possibilities - I bought it. I just want to say for the record that I ALWAYS am amazed at how superior Urad is in every way! I will not be wasting my money on anything else again- nothing could be better than the Urad line of products! Dena Hamilton -owner- Leather Care Specialists & Great Leather
I went to the Ottawa Bike show yesterday and had my boots done by a salesmodel. Bought a jar and just now finished refreshing three of my motorcycle jackets. FANTASTIC results. Just last week, I had been given an estimate by a dry cleaner to do them for $53 each. Over $150! To do the three jackets I used just a smidgen from my 200 gm jar. You can bet I will be ordering more as I have a bunch of boots, vests, chaps gloves, bike seat and bib to do. I wish I had known about this product long ago. THANKS! Happy Biker.
Len Westerberg
Ontario, Canada
Received my Urad products that felt like a "gift"! As you already know the Urad products are unbelievable in bringing back life to leather furniture. My furniture is looking youthful again!
I also want to express sincere appreciation for your advice and service over the phone. Please feel free to post my commendation for an exceptional product. It's either Urad or nothing at all!
Thank you!
URAD.COM NOTE: Customer got Aquila, Urad and Tenderly.
We use Urad products to clean & treat our baseball and umpire shoes at Lupton Stadium.
I REALY like this product. Its easy to go on and it leaves a nice finish. I recommand it.
The product is fantastic on our smooth leather furniture. After each visit from our Grandchildren, we use the product to remove scratches. Works great.
I have been very particular about keeping my shoes, boots and other leather articles looking their best since I was twelve years old. I have purchased dozens of different polishes and creams over the years. Many did a good job but were quite time consuming and messy to use. Now that I've discovered Urad, I can have all of my leather looking great in a fraction of the time without the mess. I also find that the finish lasts longer than the conventional waxes and polishes and seems to keep the leather softer and more supple. Now, to get rid of the box of cans and bottles that are no longer needed... I've been converted. DS
I have been using Urad for several years,it does an amazing job at making leather look great. I love this product.
I purchased Urad neutral at the Home Show in Duluth. I sell a leather cleaner and I wanted to compare it. Everyone who sees my saddles can't believe how nice they look and how fast it is to use! I love it!!!
I have used Urad for 20 years. I first bought it at the NILE Livestock Show in Billings Mt. It was called Leathermate at that time but manufactured by Urad. DO NOT BUY THE PRODUCT CALLED LEATHERMATE TODAY. It is not the same product as Urad. This is the best leather product on the market PERIOD! I have used it on Boots, Clothing, Saddles and tack. It cleans, restores, and protects better than anything and is so easy to apply Joe Biden could do it. Dont waste any more money on other leather conditioners. Urad is the ONLY product worth your money.
I first found Urad at an underground (literally underground) in Toronto, Canada in 1996 I think. I loved it so much I have bought it almost yearly since though not necessarily under the Urad name. It has several "Product" names around the Phoenix area, but it is the same inside the container. (Urad.com Editor Note: see disclaimer) I have not been able to get anything but neutral for a few years and I prefer black as all my shoes are black. I am a disabled Veteran and buffing my shoes with conventional wax polish is very hard and a bit painful, but Urad just wipes on and the shoes are ready to put on and go. I was told by the last distributor I talked to at the Fair to go to "urad.com" and I could order it, so I did. I am a happy camper again. Thanks Urad for a great product.
I first tried Urad for leather over 13 years ago when my father purchased it at a trade show & shined my cowboy boots for me. Since then, when ever I saw the product at a tradeshow I would by some for myself & for him. So glad to have found this website so that I can order it when I need it. Works fantastic on boots, shoes, purses.... My favourite black leather back pak purse was looking tired & worn, purchased some black urad & applied it, looks brand new. Love it!
BEST PRODUCT EVER! WORK BOOTS TO DRESS SHOES
I found up a very old motorcycle jacket in a yard sale. It was funky and the finish was terribly worn but no tears. I was reluctant to try it on for fit because it had been wet and laying around. It hung on a hanger in my shop for 18 months until I finally decided to toss it or fix it. I went to the shoe shop and the owner shook his head and said there was nothing he could do. I went on line and found Dynamique 9 Inc. I was still apprehensive even after talking to them, but decided what did I have to loose. I read the instructions over a few times and got started. I mixed the parts together as told. Right away I found the color and finish come back. I ended up using the whole 100ml of dye. This product was fool proof. I should have taken a before and after picture. I was knocked out. The color and finish are like new. Thanks for your patience and help.