Testimonials
Received this super fast, great products, thank you!

URAD.COM NOTE: Customer got both Aquila and Vernice for patent leather
I purchased a vintage Letter Carrier's (mailman's) bag on Ebay that was stiff and dirty and "seen better days". My shoemaker suggested I use URAD to restore it, and it worked wonders! The old, brittle leather turned supple overnight, and the vintage patina had a new luster! I'm ready to buy this stuff by the gallon!!!!
I first found out about the Urad while waiting to perform at a festival at one of the local horse race tracks. That was around 97-98, since then I've been hooked and haven't had to deal with the unpleasant nature of shoe polish. Excellent product, I`ve been buying it for close to 10 years, my shoes always look great!!!
Fantastic product. Our dog decided to attempt to dig through the beautiful leather couch in an attempt to retrieve the ball that was underneath it. This product did a fantastic job of repairing the scratches that she caused.
These products are AMAZING!!! I put the clear on every pair of shoes I wear to the office every day and they look like new. I even get compliments constantly on how nice my shoes look. I have never found anything that even comes close to this product. Thanks URAD for keeping me the best dressed in my office!!
Michael Oknowsky
New York
We bought URAD after having our boots cleaned with it at the Tulsa State Fair 5 years ago. I have been a faithful repeat customer ever since! We use it for boots, shoes, purses, tack and out leather furniture! LOVE IT LOVE IT LOVE IT! It is the best product I have ever used, and I have used them all! THANKS! URAD!!
This customer came in after he found out that he forgot his wet leather coat in the trunk of his car. He had left it there for some time...He wanted to know if I had anything to fix the finish of his coat...Something that would really work... He was devistated by what happened to the one sleeve of his coat that was resting on the bottom of the floor in the trunk of his car. I suggested that I try using the Urad Brown on it. I wiped the coat clean with a spot remover, and then applied the Urad and left it over night...When I came back, it was ready to wear again. He was astounded by the appearence of his coat. I also applied one coat of Tenderly. He was so happy, he bought one of each the brown Urad and Tenderly.
side by side before and after.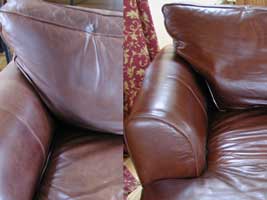 I contacted Dynamique9 Inc. at Urad.com and was so impressed with the help he gave me as to what product was right for my leather sofa. it was dry and cracked and stained. He even gave me specifics for certain stains! Now my sofa looks brand new. The old color and shine is back. I even enclosed pictures to Urad.com of my old sofa and will send the new. It's amazing I have my next order all ready because I even tried it on my old leather backpacks and they too are like new. I didn't think I would be writing a commercial but with something this good you need to spread the word. Thank You Dominique!
Thank You for your Urad products!
Linda Longhi Feeding Hills, MA

I have a leather recliner that is about 8 years old. Even after using other leather cleaner/conditioners, the chair has looked it lost all its color and shine - my husband keeps telling me to junk the chair. We were at the Western Heritage Classic in Abilene, TX in May and bought a small jar to try on our saddles. I decided to try it first on my leather chair - WOW! what a surprise! My chair looks brand new! I can't wait to use it on our saddles. It does just as promised and so easy to apply. My only question - should the sponge be washed out after use? Great product.
URAD.COM NOTE: The answer is Yes, the spnge should be washed.
WOW..My husband and I first purchased this product at the rally in Conroe, TX . WOW..Our boots were both filthy from riding from Temple to Conroe and was a lil skeptical when the lady ask us to let her clean our boots . Decided it couldnt hurt anything , so up go the feet ..WOW ...I love this stuff ..We use it on everything leather . Im totally sold on this and spreading the word at the same time .. WOW ..WONDERFUL PRODUCT !!!!! Thanks .
Very glad to now your product
I have been using Urad on my shoes and boots for about 7 years. One jar usually lasts me for a year. It is a great product, and I usually purchase a jar at the Abilene Farm and Wildlife Show in Abilene, Texas at the Expo Center in February. You did not show up at the show this year and I need my yearly supply. Please tell me how to get another jar of that good stuff. Thanks, Billy
I PURCHASED YOUR PROCUCT YEARS AGO AT THE HOME AND GARDEN SHOW I LOVE IT!!! I HAVE TRIED OTHER LEATHER CLEANERS AND YOUR PRODUCT BEATS THEM ALL HANDS DOWN!!
I got black Urad creme in the 3.5 oz tub from my friendly neighborhood shoe repairman, with his reassurance that it doesn't rub or flake off, or come off with water. I've used it now to restore a number of vintage Coach purses gleaned from thrift stores and yard sales, and they look nearly as good as new. Beautiful! I recommend this stuff to anybody interested in restoring scuffed, finished leather goods, from purses to jackets.
Have been using URAD products for about 6 years. This stuff is great, just love it. I will continue to tell my friends about this wonderful product. Thanks
This has got to be the best leather product I have ever used. Put a small amount on -shoes, jacket, etc. - and it looks like new - totally unbelievable!!!
Just bought some URAD at the Equine Expo in Massachusetts, cleaned my saddle and bridle and love it!!
I will be purchasing more and buying some Grasso to soften the leather occasionally. In reading the web site about Grasso, I am pleased to learn that it is safe to use on "brides". I am sure they will appreciate it...
Excellent quality product! Website is well organized and easy to use.
I have two very expensive Natuzzi Leather couches, about 7 years old. They have looked very old and worn the past few years and almost ended up in the trash. My new girlfriend is a professional re-upholstery expert, and after she took them apart, restrapped and restuffed them, they were comfortable again, but still looked bad. I had purchased Urad neutal at the home show last winter for to use on my leather jackets. She tried it on the leather couches after cleaning them and now both couches look factory new again! Saved me $5,000 which they would have cost to replace. I can't say enough positive things about how well this product works!
We have found the Urad products in the natural and in the black to be great for baseball shoes and especially umpires shoes.
Although I don't usually fall for demos of products like this at trade shows, I was impressed and bought a small container of URAD about two years ago at a motorcycle show in Toronto. The small container has lasted well and I have had much use out of it, good value for money. I use it mostly on motorcycle leathers and boots, but also on leather upholstered furniture in our home. Results have always been great - couldn't ask for more! I have just ordered a new and larger supply of URAD as well as SAHARA which I will now try as well. Highly recommended!
I bought this clear polish 12 years ago in Canada and could never find it until now. It by far is the best!
Bought mine at a boat show about 4 years ago or so. We love it. It works wonders on scuffed leather shoes.
I hate buying things at fairs. I am glad I did great stuff!