Testimonials
I ordered Urad, Grasso and Aquila. I used the Aquila on my saddle and oil tanned chaps. I applied Urad to my saddle and Grasso to my chaps. The difference is amazing. So glad I found your products!
EXCEPTION PRODUCT, I use it on my leather jacket as well as my shoes, boots, belts, & holsters!
JOE MARIE MONTOYA
New Mexico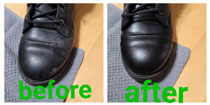 I picked up a jar at the Gun show here in Fayetteville, NC. It was tested on a pair of new boots that I wore that day and they were instantly easier to walk in. This stuff really does break in boots immediately. I also used it on another pair of boots that I have that had some scuff marks and they can barely be seen now. I then tried it on my husband's leather jacket that he's had for years and this stuff brought it back to life. This stuff is 100% worth every penny you spend.
We wanted to update our 20+ year old leather couch/love seat - it was either replace or refurbish. Robby reached out to URAD, Leather care products (Canadian company based in Montreal) for information & advice. He spoke to Dominque who made suggestions on what to buy (& not buy), how to apply it, and requested us to call back if we had any further questions or ran into issues. The colour of dye that he sent on Robby's description - med brown… was perfect! The entire process - removing the cushions, cleaning, dyeing/conditioning/sealing, and putting everything back took 5 hours for both pieces. Although our set was not too bad, there were some spots that definitely needed refurbishing and the result is so much more than I expected! This is a perfect DIY project for anyone….I would say it was easy, but hubby did all the work (I was on consulting and admiration duty)! We would happily recommend this product to everyone! PS: we still have to replace the foam in the cushions - can't wait! (also not sure how to indicate 'before' & 'after'...)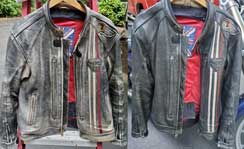 I wanted to pass along my gratitude and satisfaction with these products for a recent motorcycle jacket restoration and for your guidance to change the dye type from matte to normal. The outcome is nothing short of miraculous. I've attached photos of the before and after. I cleaned the whole jacket with the leather cleaner and let it dry first. I treated some areas with direct dye application (the removed patches glue, on the back, left no color behind). Then, I went over the whole jacket twice with the recommended combination of products and am going to waterproof it this evening.
Thank you again and you've gained a customer for life for any future leather restoration and cleaning needs.
Mr Jojo - I LOVE grasso, but Mr. Jojo is even better as far as water/salt permeability is concerned. I used it on my winter boots this last winter and the salt and slush didn't stick AT ALL! I've also used it on the leather soles of some moccasins. No matter how careful I am I still have small drops of water on my kitchen floor which were a problem for these soles... They would leave marks from the wet leather on my floor. However, when I coat them with Mr. Jojo this hardly ever happens and usually when it does I know they're ready for another coat... I bought the Mr. Jojo, because I knew jojoba oil has a component which is close to skin's sebum which protects skin and provides a moisture retentive layer... so I thought it might be REALLY good for boots etc. for the same reasons and it is!
We paid over $500 for a company to recondition our leather couch. The next time it needed to be reconditioned I used Urad total leather care and it came out as well as a professional job. I have just ordered more!
Shelly Robichaud
AB (CAN)
I have been using Urad on my saddles and it makes them look new. LOVE this product ❤️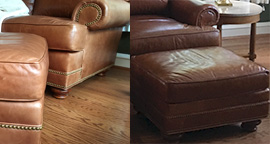 After a long search for the right restoration products, I found URAD, along with outstanding customer service from Madeleine in the sales office and Dominique in operations. And when I needed special help to correct sun fading, Dominique shared his expertise in the exact mixing and application of two pigment colors -- as well as the URAD cream and Tenderly. The restoration work was easy and my 15-year old couch has now regained all its original rich color and luster. Thank you for great products and great service! It doesn't get any better than this! Bonnie Weaver, Wallingford, PA (US)
I first found out about Urad almost a year ago from a guy at a gun show in San Diego. I was wearing my pair of cowboy boots and he offered to clean them for me using Urad. I hesitated slightly about letting him do so, but later I realized that Urad was not some knock-off or a cheap leather cleaner made in some guy's garage. Urad is legit. After he cleaned and polished by boots with it, I immediately paid for one 7oz container from him. I have not once regretted it. With a single dip of a sponge, you can quickly and effectively clean, polish, and protect your leather western boots. It works amazing for me and I would recommend it to anybody else who wears western boots. I just bought another container yesterday because I am planning on trying Urad out with some other leather items.
Enoch Profancik
California
I bought a beautiful vintage cowboy boots that needed some TLC. My coworker said she had the perfect thing to help restore it and she brought in her Urad. She quickly applied the product to the boots and even did my Timberland boots as well. They were sparkling!! I've searched all over the GTA to get my own Urad but couldn't find it. I resorted to online shopping and can't wait to receive my own!!
Excellent product! My husband brought back to live a purse and two black leather jackets. They look brand new. Was not sure when I bought product but am a believer now.
Urad works! my 5yr old never cleaned, treated books look almost new. Saved $$.
Anyhony
Northern Ontario Canada
Have been using URAD products for many years on shoes, furniture and jackets and it has literally saved me hundreds, if not thousands of dollars over the years. URAD allows me to maintain/ restore the investments I have made at a minimal cost (cost of product with minimal effort), and avoid incurring significant replacement costs for items I have invested in. Highly recommend this product. Proud owner of a 20 year old leather jacket that still looks like new, thanks to URAD.
I had bought a used black leather jacket, I used "Urad black" did wonders on the jacket. Made the leather more souple and shinier. I would recommend the product.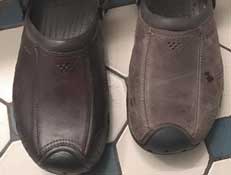 It's NOT just for leather boots!!
Hubs has diabetic neuropathy...
If you can't look good in a pair of Crocks..life REALLY sucks!!
Debbie Christensen Cox
TX
Truly a fantastic product. Shoes look like a million bucks even after being exposed to snow and salt. Bought it at a market last summer. Been ecstatic with the results. ordering more.
We have some very nice leather furniture that is about 20 years old. It had been fading and neede some type of conditioning. We looked for some time to find someone or something that might be able to bring back the great luster to our furniture. We found Urad, so happy with this product, works like a dream. Love this product, have used it for a couple years now and will continue to use it! Amazing!!! Very happy!
I picked this product up in 2011 at the Laughlin River Run. Just finally ran out after 5 years. It works amazingly well in small quantities. So well I hunted it down online!
I recommend this to everybody!
URAD.COM NOTE:
Elizabeth purchased
Grasso
Elizabeth Ramirez
TX/ USA
Wonderful Urad products! Today I'm smiling at my new restored sofa. Most of the cracks and loss of color have disappeared and there is now a softer, brighter, smoother surface. I no longer need new furniture. Thanks to Dominique for coaching me through what to buy and the easy application.
URAD.COM NOTE:
Marilyn used Urad Green on discolored area then URAD Neutral mixed with Tenderly as
described here
Marilyn M Crockower
Ontario CAN
Your restore kit did a fantastic job on a 1940 German leather trench-coat. It looks like new. Now I have a 1940's baseball mitt to restore...and more. Thanks
I received the two bottles last evening. Of course I was excited to apply the products to my leather jacket. This was left in the sun and became faded. "WOW" I spent a half hour applying both per the instructions attached. I now have a black leather jacket once again.
Thank you for your quick response, as well as your quality product to restore leather. I look forward to trying your product on my two leather chairs. One yellow 40 years old, the other red 20 years old. In each case I will take a photo before and after.
You can use my testimony if you like.
Thank you for bringing a jacket that I enjoy every day. No longer am I ashamed to wear the black jacket. A MERRY CHRISTMAS to all, in your company.
Mort Landsberg
California
I wanted to thank you for your help in selecting the Urad products last week. I purchased them to help revive my old but still in good shape black leather jacket. On the weekend I followed the process and my jacket looks fantastic (better than I actually expected). Thanks again!
URAD.COM NOTE:
Lisa used Aquila, URAD Neutral, Tenderly and Costa-Brava as
described here
We discovered this wonderful product by chance. We have leather furniture which was scratched up terribly by our cats. I had previously purchased a very expensive product online and it did not work and was complicated and messy.
We purchased a jar of brown Urad and when we came home I applied it. It covered the scratches and provided an even shiny and really amazing look to our furniture. I had been so upset about the cat scratches that were all over this expensive sofa, loveseat and chair.
I can not say enough about this product which literally saved me from throwing it all out.

I am very pleased with the great improvement and look to our furniture. It looks and feels close to brand new.