Testimonials
Mary Anne and Bev were very helpful and kind and went out of their way to help me with my leather situation to the best of their ability. Also a shout out to Dominique for his help as well. Great people!
The Urad products are easy to use and clean up well.
I ordered Urad, Grasso and Aquila. I used the Aquila on my saddle and oil tanned chaps. I applied Urad to my saddle and Grasso to my chaps. The difference is amazing. So glad I found your products!
EXCEPTION PRODUCT, I use it on my leather jacket as well as my shoes, boots, belts, & holsters!
JOE MARIE MONTOYA
New Mexico
We wanted to update our 20+ year old leather couch/love seat - it was either replace or refurbish. Robby reached out to URAD, Leather care products (Canadian company based in Montreal) for information & advice. He spoke to Dominque who made suggestions on what to buy (& not buy), how to apply it, and requested us to call back if we had any further questions or ran into issues. The colour of dye that he sent on Robby's description - med brown… was perfect! The entire process - removing the cushions, cleaning, dyeing/conditioning/sealing, and putting everything back took 5 hours for both pieces. Although our set was not too bad, there were some spots that definitely needed refurbishing and the result is so much more than I expected! This is a perfect DIY project for anyone….I would say it was easy, but hubby did all the work (I was on consulting and admiration duty)! We would happily recommend this product to everyone! PS: we still have to replace the foam in the cushions - can't wait! (also not sure how to indicate 'before' & 'after'...)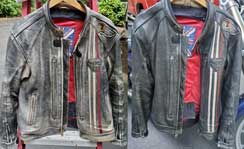 I wanted to pass along my gratitude and satisfaction with these products for a recent motorcycle jacket restoration and for your guidance to change the dye type from matte to normal. The outcome is nothing short of miraculous. I've attached photos of the before and after. I cleaned the whole jacket with the leather cleaner and let it dry first. I treated some areas with direct dye application (the removed patches glue, on the back, left no color behind). Then, I went over the whole jacket twice with the recommended combination of products and am going to waterproof it this evening.
Thank you again and you've gained a customer for life for any future leather restoration and cleaning needs.
We paid over $500 for a company to recondition our leather couch. The next time it needed to be reconditioned I used Urad total leather care and it came out as well as a professional job. I have just ordered more!
Shelly Robichaud
AB (CAN)
I have been using Urad on my saddles and it makes them look new. LOVE this product ❤️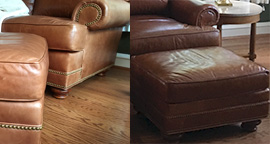 After a long search for the right restoration products, I found URAD, along with outstanding customer service from Madeleine in the sales office and Dominique in operations. And when I needed special help to correct sun fading, Dominique shared his expertise in the exact mixing and application of two pigment colors -- as well as the URAD cream and Tenderly. The restoration work was easy and my 15-year old couch has now regained all its original rich color and luster. Thank you for great products and great service! It doesn't get any better than this! Bonnie Weaver, Wallingford, PA (US)
I first found out about Urad almost a year ago from a guy at a gun show in San Diego. I was wearing my pair of cowboy boots and he offered to clean them for me using Urad. I hesitated slightly about letting him do so, but later I realized that Urad was not some knock-off or a cheap leather cleaner made in some guy's garage. Urad is legit. After he cleaned and polished by boots with it, I immediately paid for one 7oz container from him. I have not once regretted it. With a single dip of a sponge, you can quickly and effectively clean, polish, and protect your leather western boots. It works amazing for me and I would recommend it to anybody else who wears western boots. I just bought another container yesterday because I am planning on trying Urad out with some other leather items.
Enoch Profancik
California
Have been using URAD products for many years on shoes, furniture and jackets and it has literally saved me hundreds, if not thousands of dollars over the years. URAD allows me to maintain/ restore the investments I have made at a minimal cost (cost of product with minimal effort), and avoid incurring significant replacement costs for items I have invested in. Highly recommend this product. Proud owner of a 20 year old leather jacket that still looks like new, thanks to URAD.
I had bought a used black leather jacket, I used "Urad black" did wonders on the jacket. Made the leather more souple and shinier. I would recommend the product.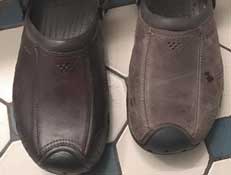 It's NOT just for leather boots!!
Hubs has diabetic neuropathy...
If you can't look good in a pair of Crocks..life REALLY sucks!!
Debbie Christensen Cox
TX
Truly a fantastic product. Shoes look like a million bucks even after being exposed to snow and salt. Bought it at a market last summer. Been ecstatic with the results. ordering more.
We have some very nice leather furniture that is about 20 years old. It had been fading and neede some type of conditioning. We looked for some time to find someone or something that might be able to bring back the great luster to our furniture. We found Urad, so happy with this product, works like a dream. Love this product, have used it for a couple years now and will continue to use it! Amazing!!! Very happy!
Wonderful Urad products! Today I'm smiling at my new restored sofa. Most of the cracks and loss of color have disappeared and there is now a softer, brighter, smoother surface. I no longer need new furniture. Thanks to Dominique for coaching me through what to buy and the easy application.
URAD.COM NOTE:
Marilyn used Urad Green on discolored area then URAD Neutral mixed with Tenderly as
described here
Marilyn M Crockower
Ontario CAN
Your restore kit did a fantastic job on a 1940 German leather trench-coat. It looks like new. Now I have a 1940's baseball mitt to restore...and more. Thanks
I received the two bottles last evening. Of course I was excited to apply the products to my leather jacket. This was left in the sun and became faded. "WOW" I spent a half hour applying both per the instructions attached. I now have a black leather jacket once again.
Thank you for your quick response, as well as your quality product to restore leather. I look forward to trying your product on my two leather chairs. One yellow 40 years old, the other red 20 years old. In each case I will take a photo before and after.
You can use my testimony if you like.
Thank you for bringing a jacket that I enjoy every day. No longer am I ashamed to wear the black jacket. A MERRY CHRISTMAS to all, in your company.
Mort Landsberg
California
I wanted to thank you for your help in selecting the Urad products last week. I purchased them to help revive my old but still in good shape black leather jacket. On the weekend I followed the process and my jacket looks fantastic (better than I actually expected). Thanks again!
URAD.COM NOTE:
Lisa used Aquila, URAD Neutral, Tenderly and Costa-Brava as
described here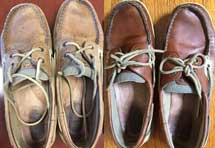 I wanted to show you my refurbished shoes. They look a lot better now. I'll take better care of shoes I purchase from now on since I have the products I purchased from you.
Thank you, Belinda
See BEFORE Picture here
See AFTER Picture here

URAD.COM NOTE: Belinda used Aquila, Grasso and URAD light brown
I'm so happy and utterly impressed....I only Wish I could show you right now!!!
I have, for years, been trying to find a safe effective cleaner for my cream leather couches. Nothing has worked. Yesturday, I attended a show where your vendor was selling this product....not only did we get our shoes shined...(Thank You!), but I finally found a cleaner that works!! I used it in my leather couches today...I'm seriously amazed and really so happy, I had to write this review.

Great great product...great price point...I highly recommend it! I can't believe how it took the discolouration out of the sofas. It dried within minutes. No more dark Jean stains!!! I should have bought more! Thank you...scincerely thank you!
We have used urad for over 35 years having first tried it at a kiosk at the Bay in Wpg. MB. It has extended the life of all of the shoes it was used on. Almost worth it's weight in gold. Highly recommended. Kathy
Lol...in addition to the couch, those expensive boots look like new even after this rainy, muddy deer season! URAD is amazing. Best leather product I have ever used.
Buying boots for my Grandson at HorseTown, I saw URAD in dark brown. I figured if it saved a saddle or boots, it would save my leather couch. After 12 years of Grandkids, my huge sectional now looks brand new! Thanks, URAD! AMAZING PRODUCT!
No question, just compliments. I rehabbed a very old black sheepskin B-3 bomber that I bought on ebay. The jacket was so old and beat up it had no finish at all and the sheepskin was completely sueded. One arm was slightly discolored and looked like it was more of a chocolate brown than black but the jacket fits well and is really warm. I used a whole bottle of black dye mixed with 5 oz. of Tenderly and about 1.5 oz of Urad. Now the color is much more even and black and the sheepskin has almost a nappa finish on it from the little bit of Urad I used. Not shiny but it feels like finished leather, not suede. Its a huge improvement and I'm really glad I tried your products. Also, I only used about 1/3 of the mixture so I'll have enough to refinish the jacket a couple of times if I need to. Maybe I'll try a bit on some black shoes I have. Thanks!